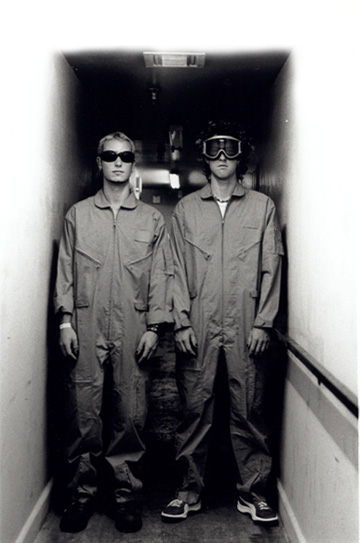 "Music is the story of life." A combination of ethereal waves of audio and conceptual lyrics creates Infrared Sound. Writers Dan Silver and Dave Miltenberger share the same vision of twisting sound to challenge the listener's sense of reality. In such an imperfect world "we feel music is the only remedy to satisfy the soul." Impacting the audience's world of imagination is a major focus of the group.

The Album: "Choose Your Own Adventure" is a conceptual piece of art that takes you on a journey from dramatic wonderlands of ethereal sounds to jungles of dark grooves where the listener is left floating in space."
Live: The live show consists of a solid set of energetic music performed mostly by live instruments including vocals, guitars, drums/percussion, keyboards, saxophones, samplers and sometimes a guest dj. Visuals are important in creating the right atmosphere for the audience. The band has been known to use an interesting combination of lights, smoke, TV's, and costumes.
"Much of the Infrared Sound experience can be seen in their live performances. Instead of the typical concert of standing around and clapping hands, Infrared invites you to join them on the journey that their live music brings. Their shows involve much more than guitars, percussion, and electronic noises. In order to create their atmospheric vibe, Infrared employs use of several imaging phenomena to enhance the musical experience. They try to create the out-of-body experience for the audiences through uses of TV images, strobe lights, smoke machines, and various other imaging resources. The Infrared show is more than music, it's also an environment, created for the listener's enjoyment and getaway."
For Infrared Sound, the search of a vision has only begun. In such an imperfect world "WE FEEL MUSIC IS THE ONLY REMEDY THAT SATISFIES THE SOUL."
---